Inflation Trends
Looking at the latest headline inflation numbers, both the Consumer Price Index (CPI) and Personal Consumption Expenditures (PCE) index increased in the month of September, primarily due to the increase in energy prices. Year-over-year, CPI increased 3.7% while PCE increased 3.5%.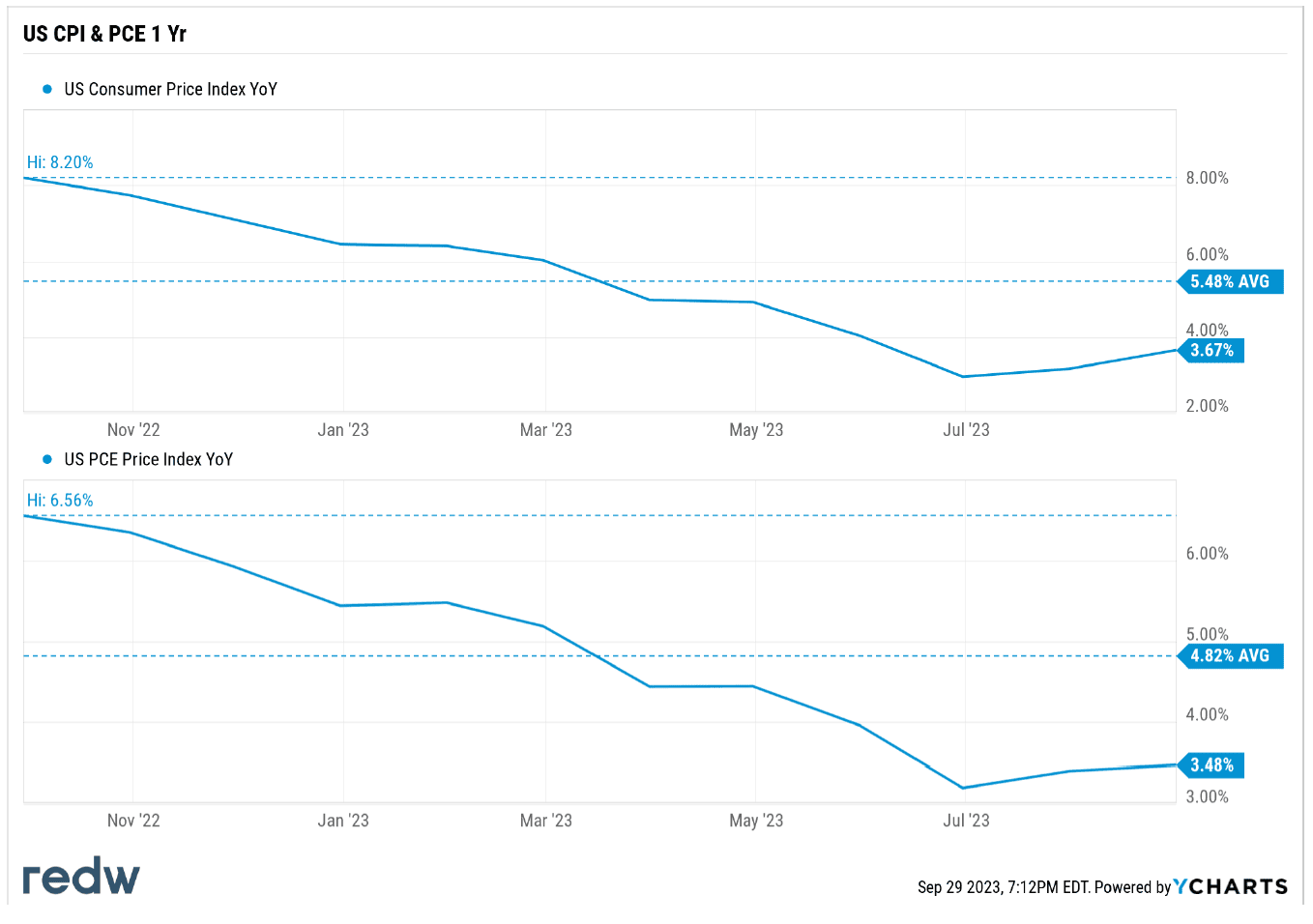 When we remove food and energy (the core inflation rate), then we see CPI declined to 4.4% year-over-year and PCE decline to 3.9% year-over-year.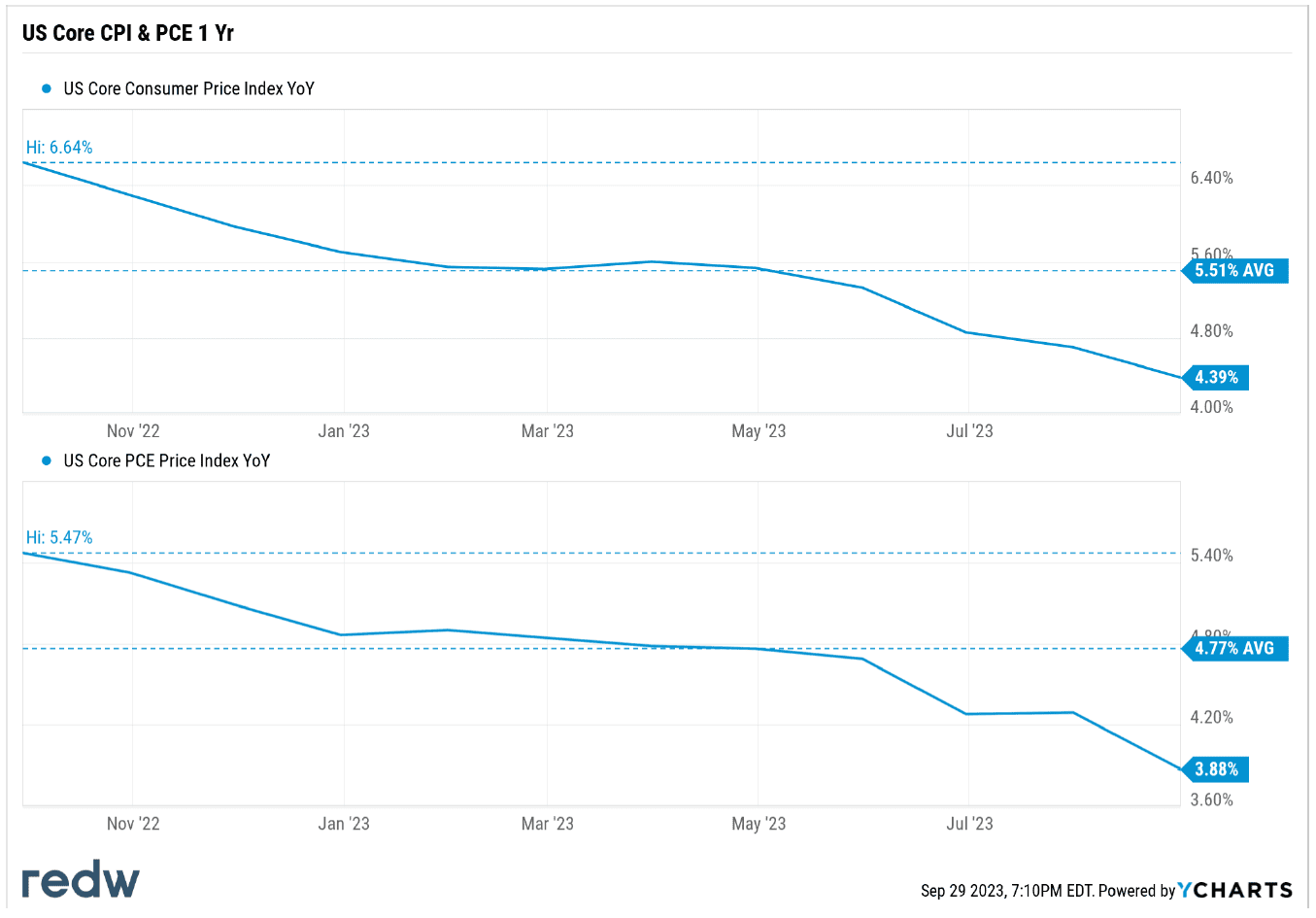 Positive Signs Amidst Concerns
On the positive side, core inflation has begun to move downward compared to the persistent level it maintained earlier in the year. On the negative side, the Fed's preferred method of measuring inflation, core PCE, is still about 2 times their target.
We find another negative point looking at the constituent members of PCE. When we look at the PCE services subsector, we clearly see its persistence at being elevated. Also, increases in Goods—particularly Nondurable Goods—will have an impact in future yearly comparisons.

Income & Spending: A Delicate Balance
When getting a read on income and spending, we see the year-over-year comparison for real (inflation-adjusted) income is positive, meaning total growth in income is greater than growth in inflation. However, recent month-over-month numbers have been negative, implying the growth in inflation-adjusted wealth is topping out.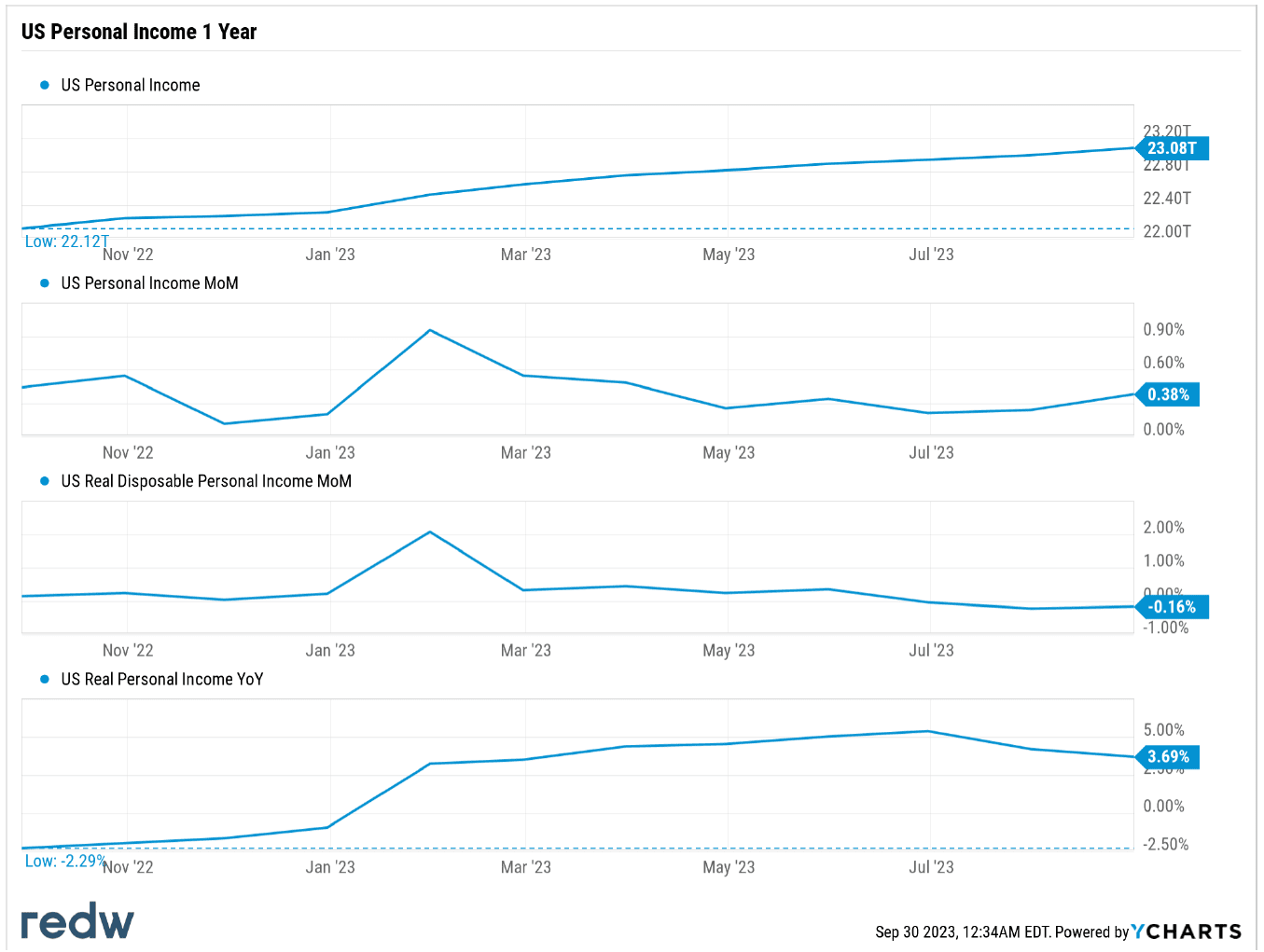 As real income growth has turned negative in recent months, personal spending has also declined month-over-month, which is not conducive for economic growth.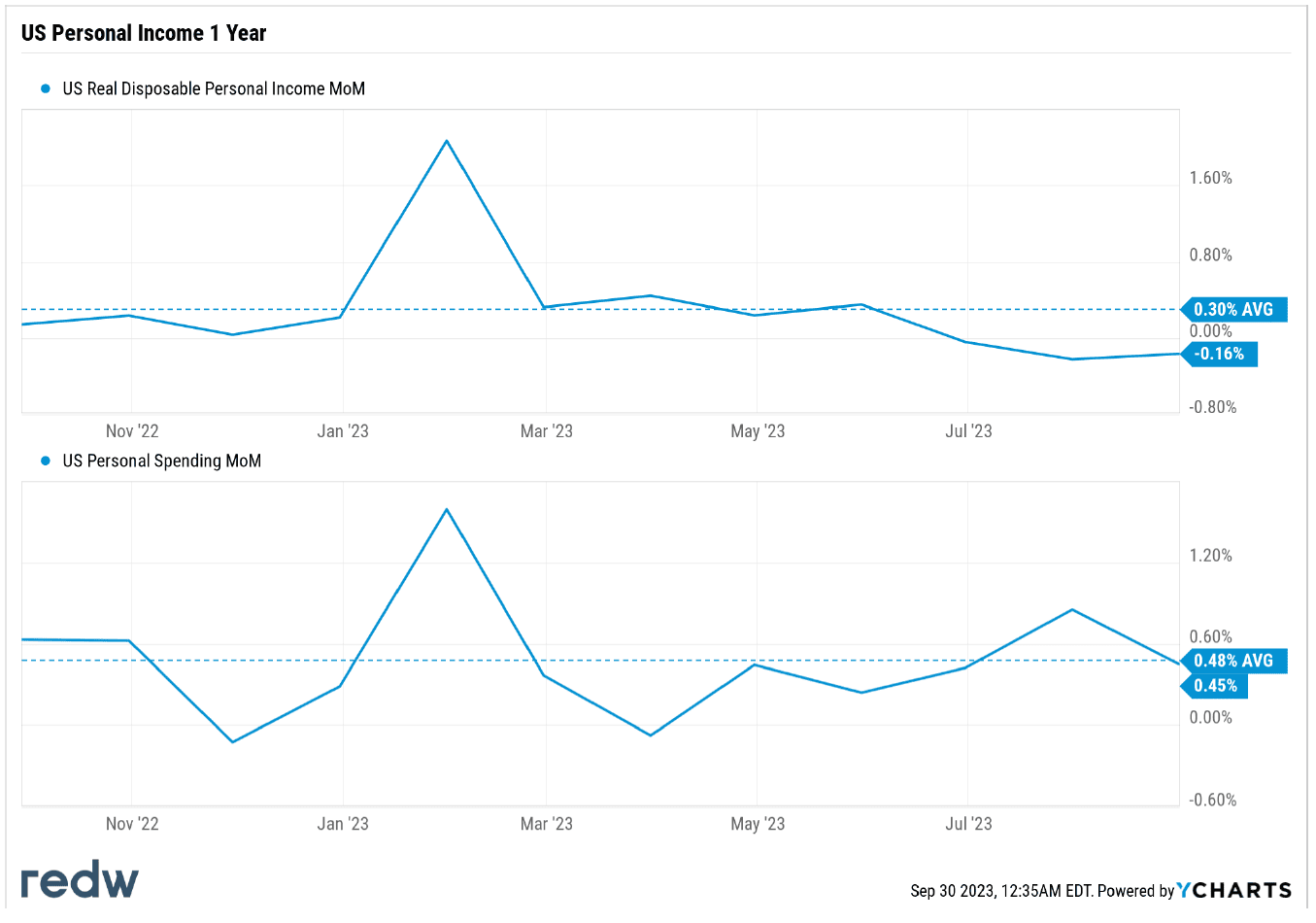 The Housing Market: A Weakening Picture
In terms of the housing market, in the last week of September we observed declines in both units and median price in new home sales, likely due to the impact of elevated mortgage rates.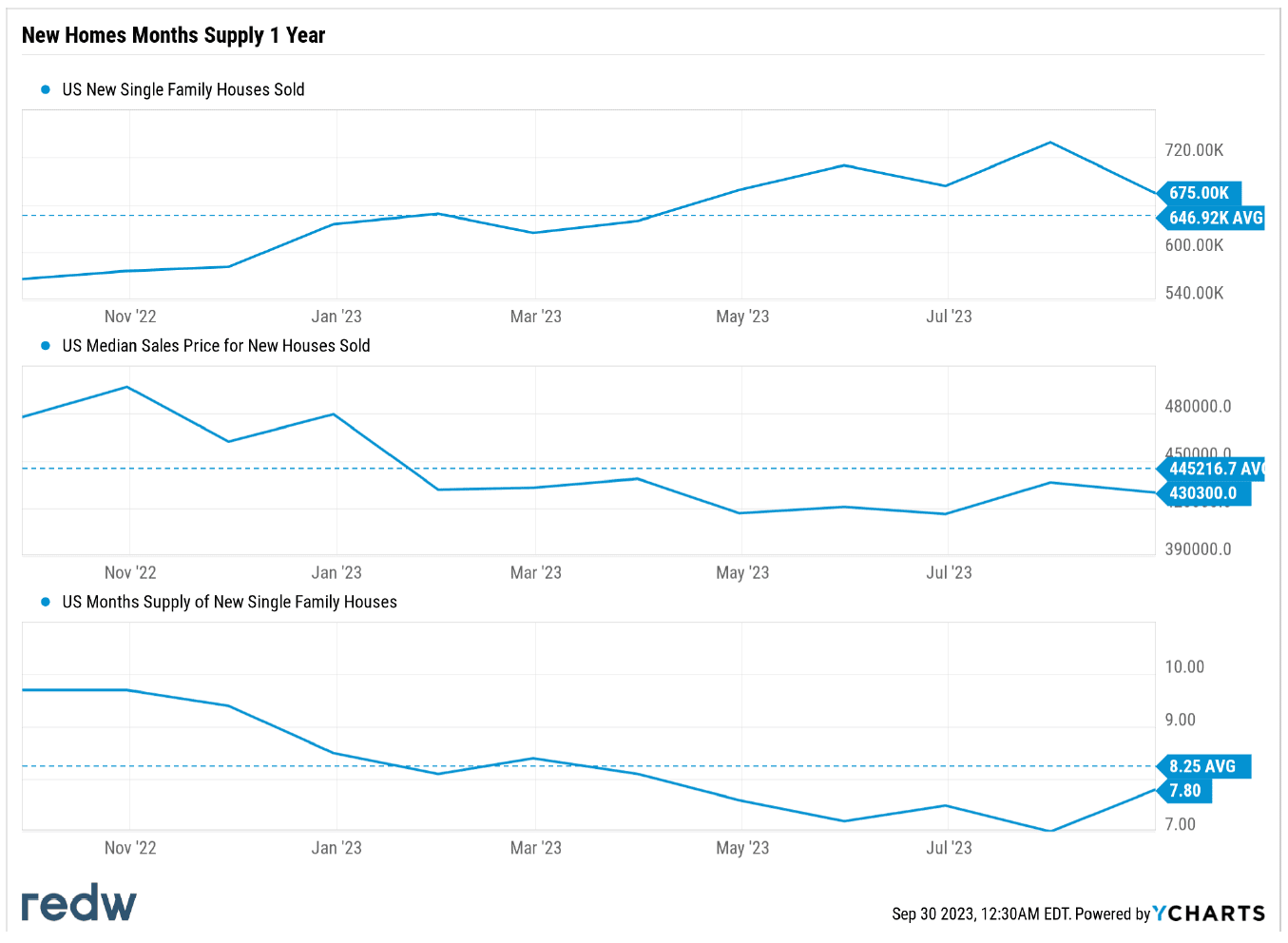 Durable Goods
In our reading on durable goods, the headline numbers show positive growth improving over last month's reading, however these numbers exclude both defense and aircraft, both of which are volatile month-to-month.

Looking Ahead
In the week of October 2nd, we'll be looking at information on ISM, payrolls, and job openings. Stay tuned for future updates from REDW Wealth Management as we navigate the ever-changing economic landscape to help you make better-informed decisions.
Contact our trusted wealth management advisors with any questions at the link below.
More From REDW Wealth Management
© 2023 REDW Wealth LLC. This publication is intended for general informational purposes only and should not be construed as investment, financial, tax, or legal advice. Information and instruction shared in the article above do not guarantee outcomes, performance, or quality of services provided to REDW Wealth Management clients by REDW Wealth Management or its employees. Adherence to our fiduciary duty is not a guarantee of client satisfaction or any particular outcome. Advisory, Assurance, and Tax is offered through REDW LLC. Wealth Management is offered through REDW Wealth LLC.