Last week brought a flood of new economic data. At first glance, the news looks positive, but digging deeper reveals some concerning trends. At this time last year, we thought we would be in a recession by now, but the economy has been very resilient. Last week's GDP (gross domestic product) report makes this point clear: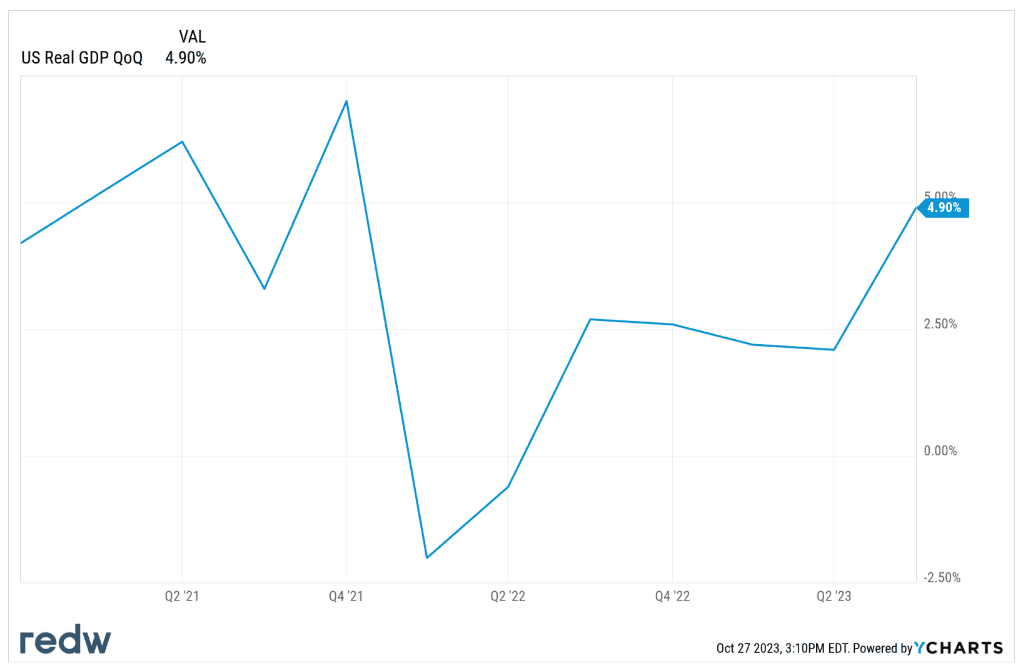 GDP Hits 4.9%, But Business Investment Lags
US GDP grew 4.9% annualized, beating expectations of 4.5% growth. Strong personal consumption, business inventories, and government spending fueled the expansion. One downside? Business fixed investment declined. Companies could be cutting back on risk taking activity given the high rates of return they can earn on capital by just being in short term fixed income. However, when companies pull back on investments, long-term growth suffers.
Despite the strong GDP number, inflation generally moved the right direction.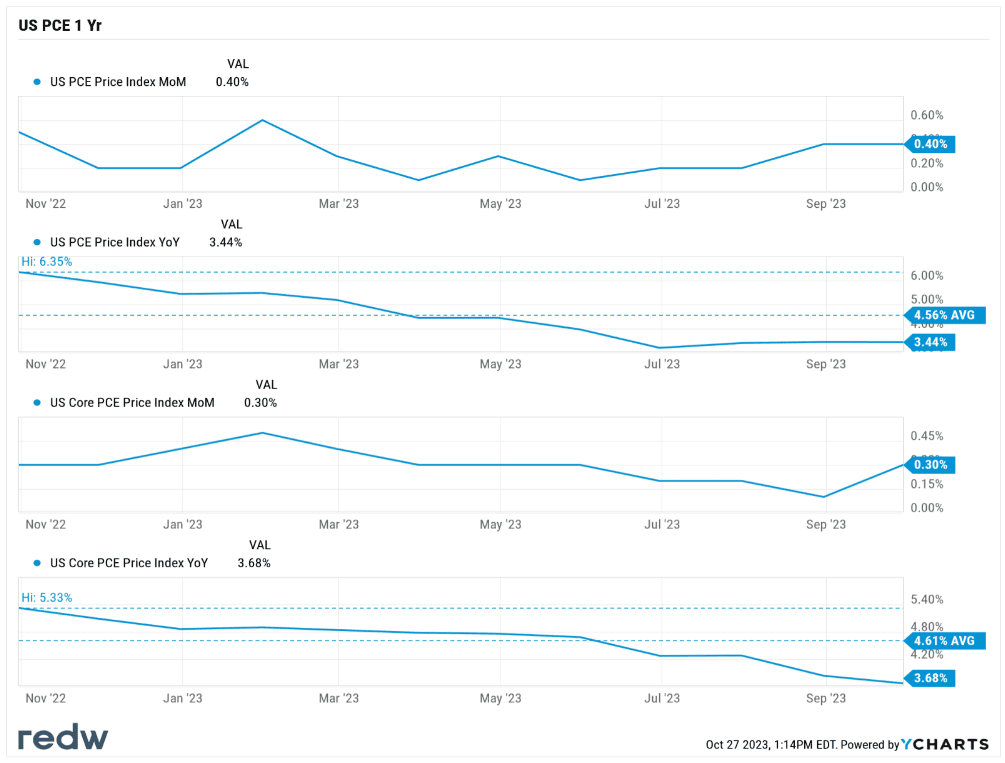 Inflation Moderates But Still Above Target
Headline PCE inflation was unchanged at 3.44% year-over-year. Core PCE (excluding food and energy) dipped to 3.7%.
On the surface, this looks like progress. But month-over-month, core PCE rose 0.3% after increasing just 0.1% previously.

A closer look at the subcomponents of PCE shows accelerating price hikes in services and nondurable goods. The PCE index for durable goods kept falling, drawing and increase in demand. We saw an uptick in durable goods orders.
Even when we take out the more volatile defense and aircraft sections, we see ongoing growth which is positive for economic expansion.
Troublingly, real incomes dropped -0.8% month-over-month, which is dragging down the year-over-year comparison—which is still positive at 3.5%.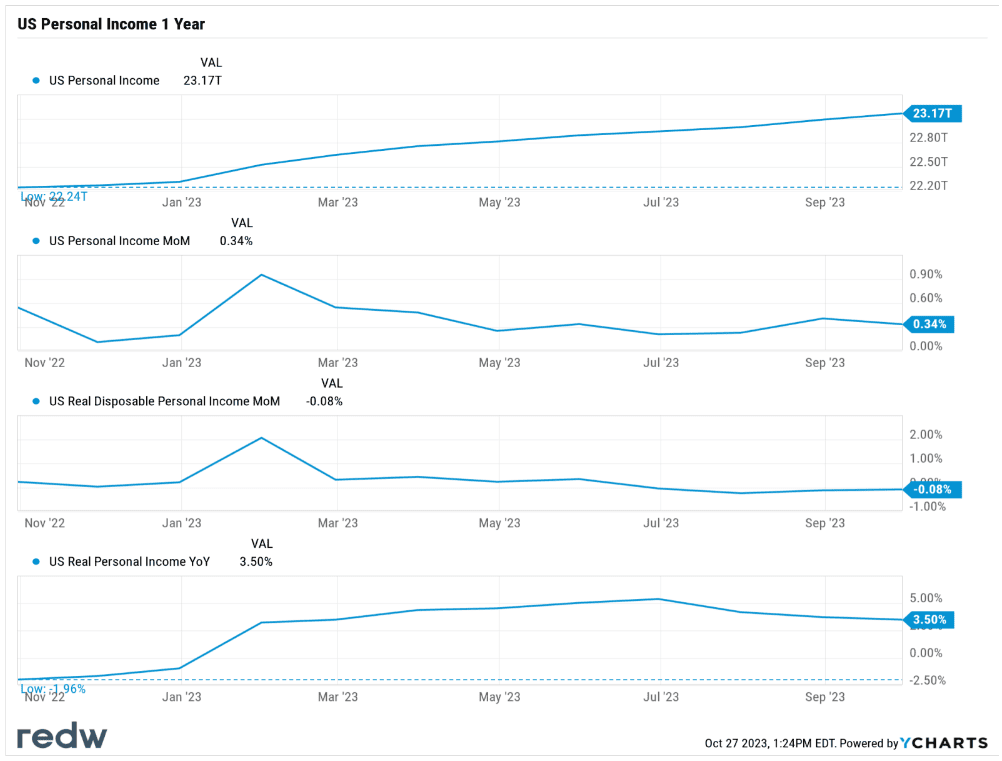 We have contended for some time that a recession can only be avoided if real income can remain positive while the Fed pursues its goal of 2% inflation. Real income growth is essential to sustain growth when inflation runs hot. If the month-over-month rate continues to be negative, consumption should be affected and economic growth should also slow.
Debt Load Rises With Rates
Despite the decline in real income, personal spending increased month-over-month to 0.7%.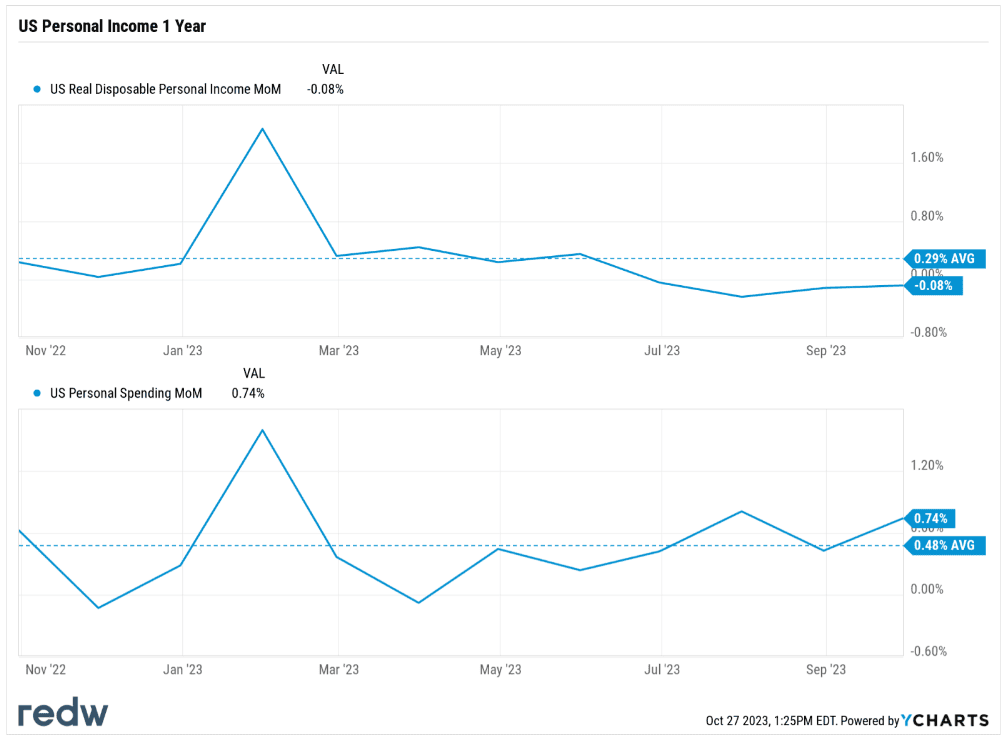 Strong levels of spending and muted income growth have fueled attention to the amount of debt being used. This is quite reasonable given the increase in rates on all forms of debt. Debt service as a percentage of disposable income has trended higher in recent years as fiscal stimulus declined, but it remains below pre-Great Recession levels.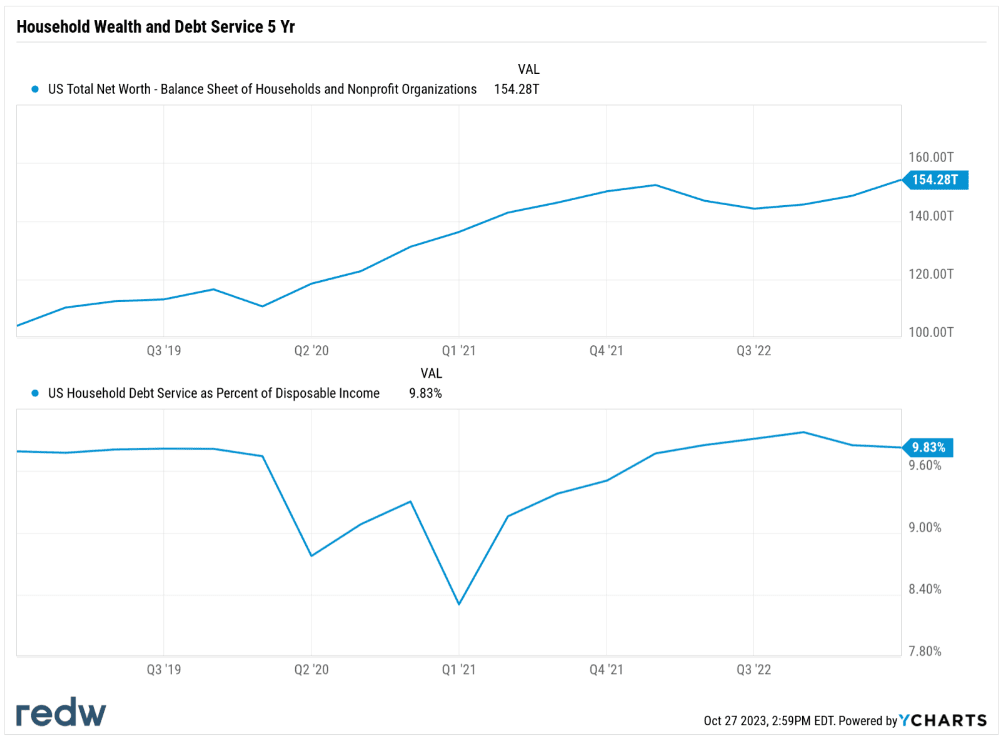 New Home Sales Up, Prices Down
On housing, new home sales and units sold rose while prices dropped. Homebuyers are turning to new builds as existing owners stay put.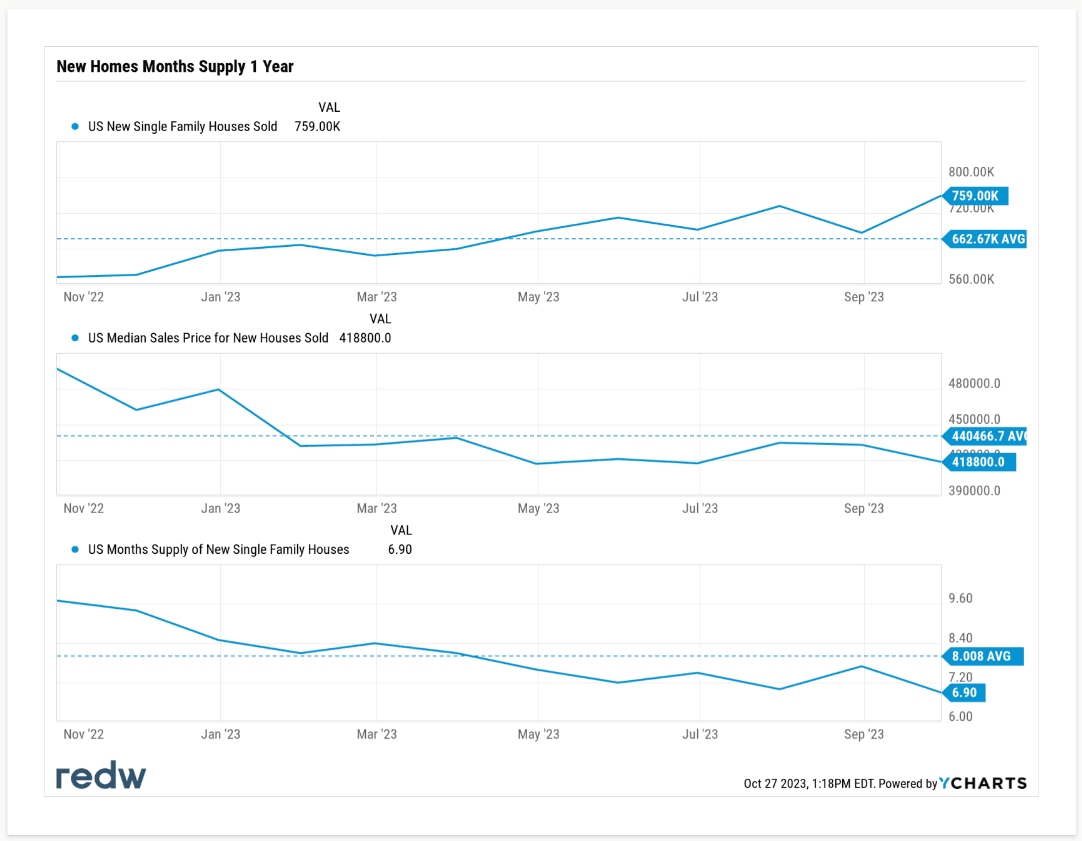 Key Takeaways
We're seeing an economy in transition with crosscurrents across sectors. These crosscurrents lead us to bear close watching on real income and earnings. When households generally see their purchasing power increase economic growth can continue. However, if incomes stagnate and spending falls, economic activity and wealth creation will be affected and growth will downshift.
Inflation continues to be above target but generally moving in the right direction. However, many parts of inflation remain persistent, which could warrant the Fed holding rates at current levels for some time. According to the Chicago Mercantile Exchange (CME) Group, the latest expectation from the futures market is that the Fed will hold rates steady at their next meeting on November 1 and 2.
Manufacturing looks set to improve from summer lows per upcoming ISM data. In the week ahead, we will get a reading on ISM manufacturing and while it is expected to still register in contraction, it should be better than the low reading of the summer.
For housing, we are seeing a movement from existing home sales to new home sales.
Upcoming reports – ISM, the Fed meeting, and October jobs data – will shed more light on the health of the economy.
Contact our trusted wealth management advisors with any questions at the link below.
More From REDW Wealth Management
© 2023 REDW Wealth LLC. This publication is intended for general informational purposes only and should not be construed as investment, financial, tax, or legal advice. Information and instruction shared in the article above do not guarantee outcomes, performance, or quality of services provided to REDW Wealth Management clients by REDW Wealth Management or its employees. Adherence to our fiduciary duty is not a guarantee of client satisfaction or any particular outcome. Advisory, Assurance, and Tax is offered through REDW LLC. Wealth Management is offered through REDW Wealth LLC.