REDW LLC, one of the Southwest's 10 largest public accounting and business consulting firms, is pleased to announce that it has been awarded a Top Workplaces 2019 honor by The Albuquerque Journal. The list is based solely on team member feedback gathered through a third-party survey administered by research partner Energage, LLC, a leading provider of technology-based employee engagement tools. The anonymous survey measures several aspects of workplace culture, including alignment, execution, and connection, just to name a few.
"Top Workplaces is more than just recognition,†said Doug Claffey, CEO of Energage. "Our research shows organizations that earn the award attract better talent, experience lower turnover, and are better equipped to deliver bottom-line results. Their leaders prioritize and carefully craft a healthy workplace culture that supports employee engagement.â€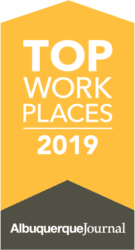 REDW team members recognized the firm's strong values and encouragement of different points of view as the top qualities that make it a great workplace.
"REDW really is a big team with a single focus: making meaningful contributions in each other's lives and in the lives of the people and communities that we serve,†said Steve Cogan, Managing Principal of REDW. "To us, the key to a great workplace is contained in that focus—we do all we can to engage with clients, our community, and with each other. I credit our team members and the work they do to move us forward. Everyone at REDW makes a difference.â€
Linda Wallace, HR Director at REDW, commented, "We are honored that our team members took the time to share their experiences with the Energage survey. They are the reason we are a top workplace, and we depend on them to help us create a community where everyone has a sense of participation and ownership. REDW is a great place to work! I'm looking forward to using this award as a springboard for some team-building opportunities where we can continue to explore ways to make our firm an even more rewarding place to work.â€
"Becoming a Top Workplace isn't something organizations can buy,†Claffey said. "It's an achievement organizations have worked for and a distinction that gives them a competitive advantage. It's a big deal.â€
For more information, please contact Gabriel Tevrizian, REDW's Director of Marketing, at 602.730.3608 or gtevrizian@redw.com.