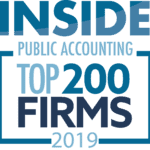 REDW LLC, one of the Southwest's 10 largest public accounting and advisory firms, is pleased to announce that it has been named as one of the country's Top 200 Firms for 2019 by INSIDE Public Accounting in its annual benchmarking of the accounting profession.
REDW ranked as 120th among the 200 largest U.S. public accounting firms, moving up two spots from 122 in 2018. REDW is the only firm in the state of New Mexico to make the Top 200, and 2019 marks the 10th consecutive year that it has appeared in the Top 200.
Considered a respected and authoritative analysis of firms throughout the industry for nearly 30 years, the Top Firms report presents an overall picture of the demographics and growth of the accounting profession. The Top 200 Firms publication IPA 200 ranks firms from No. 101 ($39 million) to No. 200 ($19.2 million). The list includes firm headquarters, managing principal, net revenue, ranking in the previous year and percentage change. INSIDE Public Accounting compiles rankings from data gathered in the annual IPA Survey and Analysis of Firms, which attracts participation from 550 firms.