New Home Sales Continue to Climb
For the final week of June, the first piece of economic information to look at is new homes sales. Total units sold continued a climbing trend and the median price also increased from last month. The increase in units sold lowered the supply of homes to 6.7 months as we head to the 5 month mark, which is considered to be tight supply.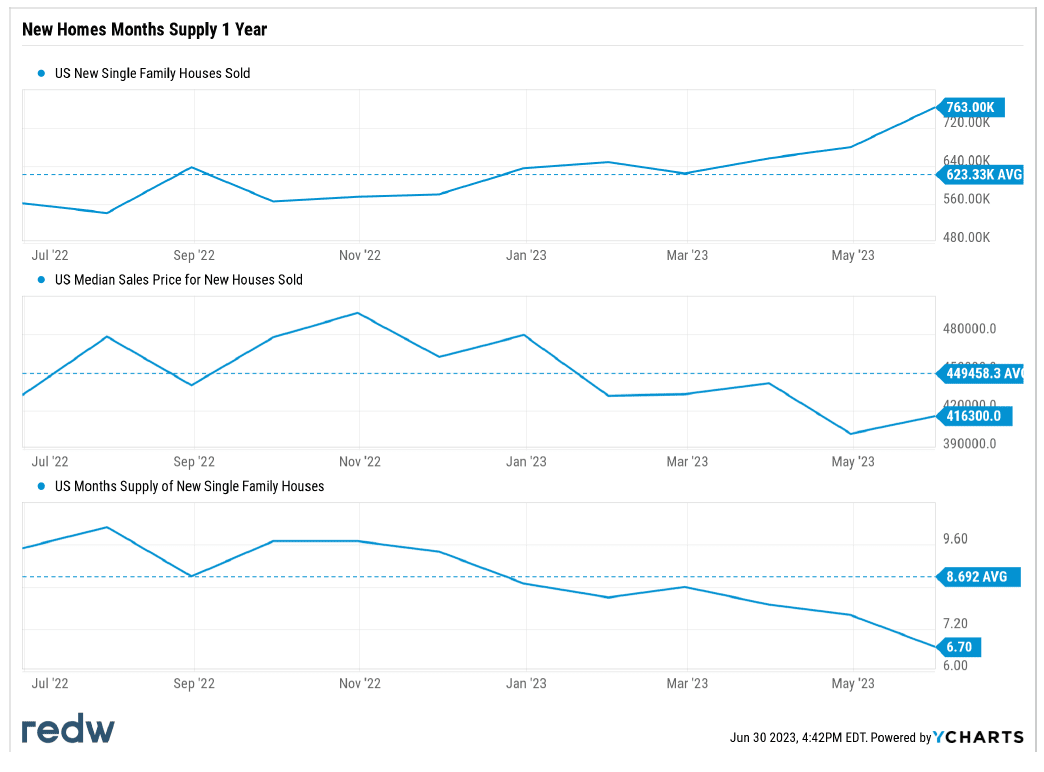 It would appear that, overall, housing is finding a bottom.
Durable Goods Shows Monthly Growth
The second piece of information was the durable goods release that showed a month-over-month gain of 1.75%. Even if you take out the more volatile Transportation sector, we saw monthly growth. With the ongoing growth it is possible that we are seeing a bottoming of the weakness in the Manufacturing side.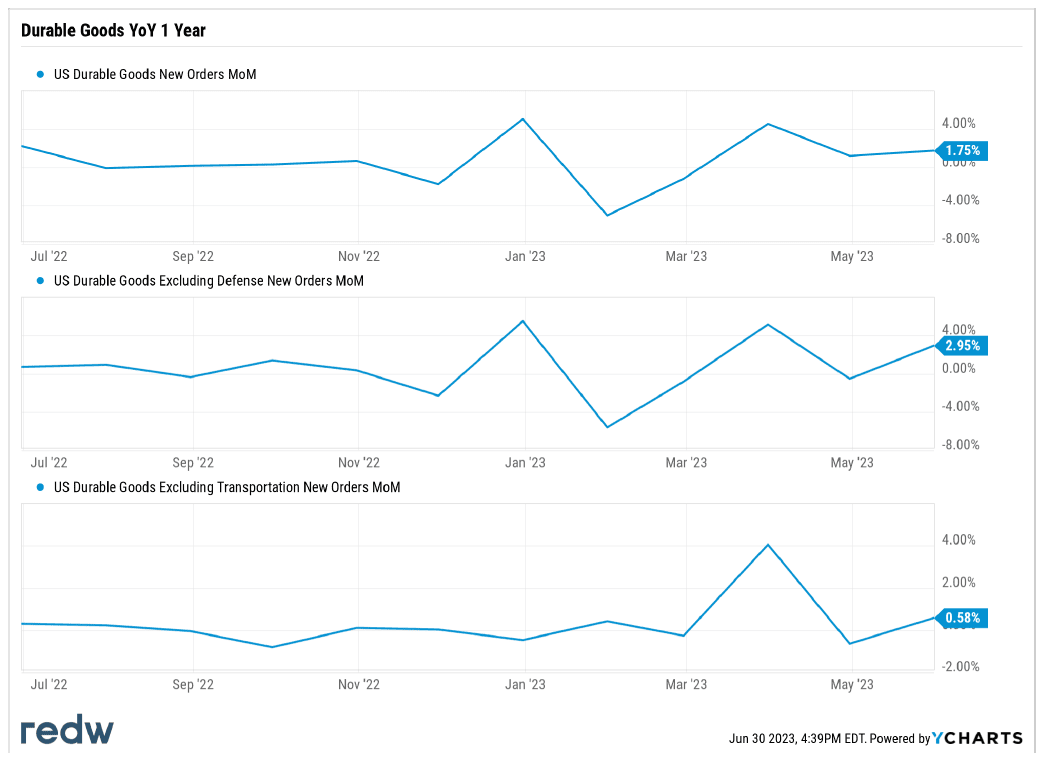 Headline PCE Shows a Decline
Since 2021, the inflation rate has been under scrutiny, especially when the Fed began to increase interest rates in 2022. Last week the Fed's preferred inflation indicators, PCE (Personal Consumption Expenditures) and Core PCE, were released. The headline PCE showed a decline to 3.85% from last year, which is in line with the headline CPI.

However, when we dig into the lowering rate of inflation, we begin to see a stubbornly persistent Core PCE which came in at 4.62% year-over-year, and has been bouncing around that level since January 2023.

When we look at the data from a different perspective, we see that inflation for services (the large part of our economy) continues to be strong while the good portion of PCE is showing some declines.

On the positive side, personal income — both headline and real (inflation adjusted) — showed positive growth both monthly and year-over-year.

However, the long timeframe of persistent inflation appears to be taking its toll as personal spending was barely positive. It is possible that the months and months of stubborn inflation and "treading water" experience of households is having a dampening effect of spending growth.

The Fight With Inflation is Not Over
Overall, it would seem that the Fed's fight with inflation is not over. Some have argued that the Fed does not need to be so vigilant about inflation as the slowing of price gains in housing will eventually find their way into the inflation equation, but if housing is finding a bottom then we might find housing inflation to be even more stubborn than predicted.
We continue to hold that the Fed will need to increase rates to induce a recession in order to convincingly push inflation down towards its 2% target. Already, it would appear that Manufacturing is in a recession if we consider the persistence of the below 50 reading on the ISM Manufacturing index, but the question is will manufacturing recover before services enters a recession? And if so, will the so-called rolling recession really be a new name of stagflation? Because of the general strength of the balance sheet of the both consumers and corporations, we do not think the next downturn will be like the recession of 2008.
For the first week of July, the holiday-shortened week will still be full of interesting releases with ISM Manufacturing and Services, Trade, and Payrolls. Our next Wealth Bytes economic update should be interesting.
More Economic Insights
© 2023 REDW Wealth LLC. This publication is intended for general informational purposes only and should not be construed as investment, financial, tax, or legal advice. Information and instruction shared in the article above do not guarantee outcomes, performance, or quality of services provided to REDW Wealth Management clients by REDW Wealth Management or its employees. Adherence to our fiduciary duty is not a guarantee of client satisfaction or any particular outcome. Advisory, Assurance, and Tax is offered through REDW LLC. Wealth Management is offered through REDW Wealth LLC.