REDW Earns Ranking on INSIDE Public Accounting's Top 200 List for 13th Consecutive Year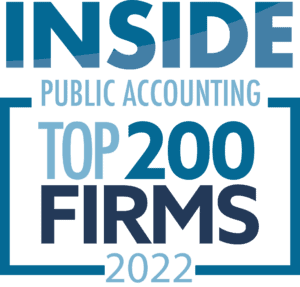 August 4, 2022 — REDW LLC, an award-winning advisory and CPA firm with more than 200 professionals in offices across Arizona, Oklahoma, and New Mexico, has been named among the Top 200 Largest Accounting Firms in the United States by INSIDE Public Accounting (IPA), the award-winning newsletter for the public accounting profession. REDW came in at 112, which is the firm's highest-ever ranking and its 13th consecutive year making the list.

The annual IPA national practice management survey draws participation from nearly 600 of the largest firms in the country and is developed based on in-depth financial performance analysis. The leader in data collection for the public accounting profession since 1990, IPA boasts a 92% return rate of participating firms. 
"REDW is focused on sustainable, responsible growth while living our values and making positive contributions to clients, the community, and each other," says Steve Cogan, CPA, Managing Principal of REDW.

"This 2022 ranking, 17 positions higher than just two years ago, is a testament to the integrity and expertise of each and every member of our dynamic team and anchors our position among the top advisory and CPA firms not only in the Southwest, but in the nation." 
The full analysis will be published in September in IPA's annual National Practice Management Benchmarking Report. The September issue of the subscription-based IPA newsletter includes the annual IPA Best of the Best firms, those high-performers at the top of their game, along with IPA's Fastest-Growing Firms from across the nation.