Consider: Valuations across many sectors will likely be lower based upon the uncertainty of future events and the unquantifiable risks related to the COVID-19 pandemic; however, declining valuations create opportunities to pursue transactions and create long-term value.
In February 2020, the S&P 500 closed at a record high. But in a matter of weeks, the COVID-19 pandemic changed the trajectory of the markets. Today, many U.S. public companies face depressed stock prices. Virtually all IPOs planned for early 2020 have been tabled as current levels of valuations and volatility make listings unfeasible. Not surprisingly, the M&A activity in the private markets has paused as investors assess this new environment.
In late March, the equity markets plunged more than 30 percent and will likely cause private investors to reduce valuations and adjust pricing mechanisms on their deal flow. Although not enough time has passed to have observable data, it should be noted that historically, the periods directly following a market dislocation have resulted in more attractive valuations, as shown below in years 2010 – 2014 following the 2008 Recession aka the Great Recession.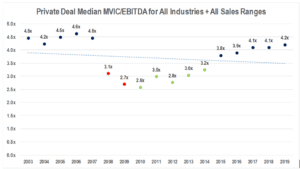 Valuation is typically viewed as more of an art than science; however, in the current economic climate where so much is unknown (i.e., forecasted future cash flow), REDW is considering the following items to reasonably navigate our valuations:
Lower public company valuations;
Conservative discounted cash flow (DCF) and leveraged buy-out (LBO) model assumptions;
Discounted debt;
Opportunistic buyers;
Distressed sellers;
Valuation gaps bridged with earn-outs; and
Minority ownership interest opportunities.
COVID-19's full impact is yet to be seen, with many analysts predicting GDP drops in 2020-Q2 of 30-40 percent. This environment is one of the most concerning we have ever faced and is likely to continue to evolve. Historically low interest rates paired with depressed valuations will stimulate M&A activity. Recall, from 2008 to 2011, Berkshire Hathaway used its gigantic cash hoard to invest in Mars, Goldman Sachs, Bank of America and Dow Chemical to generate approximately $10 billion in profits. We believe significant opportunities exist for transactions to be consummated as the market becomes more attractive for buyers, the buyers have significant un-deployed cash reserves, and sellers are in need of near term capital and expertise. REDW will continue to help buyers and sellers navigate their valuation and due diligence challenges while capitalizing on opportunities.
This publication is intended for general informational purposes only and should not be construed as investment, financial, tax, or legal advice.
---
If you are considering buying or selling a business, or would like to discuss M&A opportunities, please contact Brian Foltyn.
---
REDW is committed to keeping you informed at all times, but especially during a crisis of the magnitude of the COVID-19 pandemic. Stay connected with us on LinkedIn and @REDWLLC. Or check out some of our other updates here.